The chief Republican counsel for the Senate Judiciary committee, William Smith, has reportedly pulled a blog post linking same-sex marriage to pedophilia, Raw Story reports: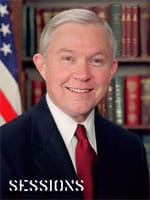 "William Smith, who was installed as Judiciary chief counsel last
week by Sen. Jeff Sessions (R-AL, right), wrote a seething blog
post last month responding to a speech advocating that the party
embrace same sex marriage. Smith was responding to a speech given by a McCain consultant and
former Bush aide Steve Schmidt to the Log Cabin Republicans, a gay
Republican lobbying group. In his post, Smith linked same sex marriage
to child rape, bestiality and pedophilia.  'I
wonder if next week Schmidt will take his close minded stump
speech to a NAMBLA meeting,' Smith quipped on Apr. 20. 'Schmidt would quickly tell you that he is not advocating
that we
support 60 year old men in their desire to rape 8 year old boys, but he
would not classify his opposition as narrow minded,' Smith continued.
'No! This is a principled position; there is some logic behind it,
Schmidt would say.'"
Here's a Google cache of the post as it appeared. More at The Blog of Legal Times:
"In an interview last week for C-SPAN, Sessions praised his new staff.
He said they would be more likely than Specter's staff to advance a
core Republican agenda, which usually includes opposition to same-sex
marriage."