Knights Out founder and Army Lieutenant Dan Choi published an open letter to President Obama and every Member of Congress on CNN's website begging them to not discharge him for being gay. It reads, in part: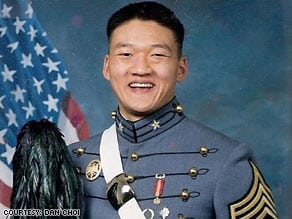 "The Department of the Army sent a letter discharging me on April
23rd. I will not lie to you; the letter is a slap in the face. It is a
slap in the face to me. It is a slap in the face to my soldiers, peers
and leaders who have demonstrated that an infantry unit can be
professional enough to accept diversity, to accept capable leaders, to
accept skilled soldiers.
"My subordinates know I'm gay. They don't care. They are professional.
"Further, they are respectable infantrymen who work as a team. Many
told me that they respect me even more because I trusted them enough to
let them know the truth. Trust is the foundation of unit cohesion.
"After I publicly announced that I am gay, I reported for training
and led rifle marksmanship. I ordered hundreds of soldiers to fire live
rounds and qualify on their weapons. I qualified on my own weapon. I
showered after training and slept in an open bay with 40 other
infantrymen. I cannot understand the claim that I "negatively affected
good order and discipline in the New York Army National Guard." I
refuse to accept this statement as true.
"As an infantry officer, I am not accustomed to begging. But I beg
you today: Do not fire me. Do not fire me because my soldiers are more
than a unit or a fighting force – we are a family and we support each
other. We should not learn that honesty and courage leads to punishment
and insult. Their professionalism should not be rewarded with losing
their leader. I understand if you must fire me, but please do not
discredit and insult my soldiers for their professionalism."
Earlier today I mentioned that Knights Out is encouraging supporters to call the White House today to pressure Obama to take action on the "Don't Ask, Don't Tell" policy.