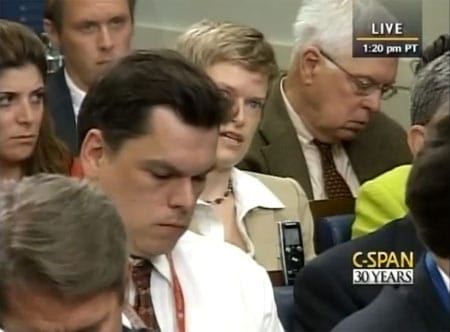 On Monday I posted a question from The Advocate's Kerry Eleveld to White House Press Secretary Robert Gibbs regarding the President's position on the Defense of Marriage Act (DOMA).
Eleveld: "The President supported the Defense of Marriage Act — fullrepeal of that — during the election. Now that same-sex couples canmarry in five different states, what is the President doing to makesure those marriages can be recognized at the federal level, and what'sthe timeline for something like that??"
The Advocate reports that the White House gave them an official response which includes an answer to part one of the question, but not part two. The official response:
"DOMA is a federal law passed by Congress that precludes uniform federal recognition of same-sex relationships, even those recognized as valid under the law of the state. Because the President believes that this is an issue that should be left to the states, he continues to support the legislative repeal of DOMA."
Eleveld's original question, via C-Span, AFTER THE JUMP…