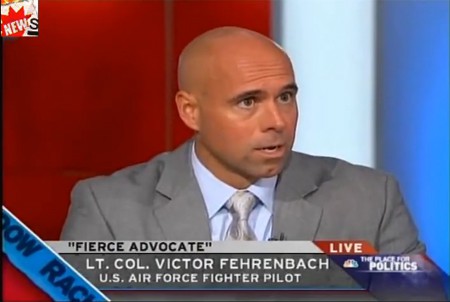 Lt. Colonel Victor Fehrenbach returns to Rachel Maddow's show to talk about serving in the military and "Don't Ask, Don't Tell". Fehrenbach says the status of his case has not left the three-star general's desk, he has not yet been discharged.
Fehrenbach is an F-15 fighter pilot and 18-year veteran of the Air Force. He is readyto deply again, but the military is firing him under "Don'tAsk, Don't Tell", two years short of being able to retire with fullpension benefits.
Fehrenbach will be attending the LGBT Stonewall Celebration at the White House on Monday.
Watch it, AFTER THE JUMP…