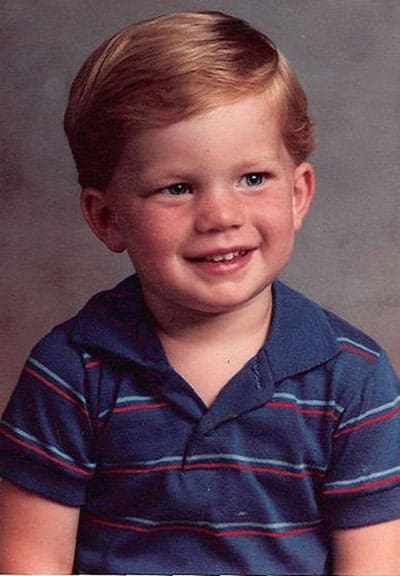 Rolling Stone has posted some family photos and some quotes from Adam Lambert which didn't end up in his cover story. Above, Lambert at two-and-a-half years old.
Says Lambert about coming out:
"There are so many old-fashioned ways of looking at things, and ifwe want to be a progressive society, we have to start thinking in adifferent way. There's the old industry idea that you should justmake sexuality a non-issue, just say your private life's yourprivate life, and not talk about it. But that's bullshit, becauseprivate lives don't exist anymore for celebrities: they just don't.I don't want to be looking over my shoulder all the time, thinkingI have to hide, being scared of being found out, putting on afront, having a beard, going down the red carpet with some chickwho is posing as my girlfriend. That's not cool, that's not being arock star. I can't do that."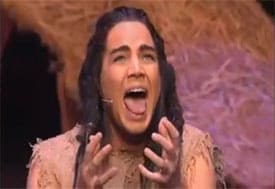 You may also remember I posted a video a while back of Lambert in an L.A. production of The Ten Commandments, which also starred Val Kilmer. Of that production, he says:
"A few years ago, I did a musical with Val Kilmer, The TenCommandments at the Kodak Theatre in Los Angeles. I wasfinally personally awakened, wearing nail-polish, feelingattractive and comfortable in my own skin for the first time. We'dgo out sometimes with Val, and it was the first time I'd ever beenaround a celebrity — it felt really fabulous. One night, wehung out at his house and Sean Lennon came over to jam with us. Iwas like, John Lennon's son? This is the coolest thing I've done inmy life. But I had a lot of problems with the people putting on theshow. One day, the director pulled me aside and said, 'Can you turnit down? The producers are a little uncomfortable. It's a littletoo … gay.' I was like, 'Um, are we doing a musical here? I'msorry, there are fags all over the place, dude.' It was veryupsetting."
Watch the video, AFTER THE JUMP…