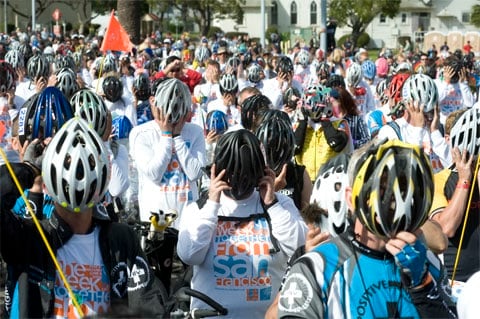 More than 2,100 cyclists completed the annual 545-mile AIDS/LifeCycle trek from San Francisco to Los Angeles on Saturday, raising $10.5 million for the L.A. Gay and Lesbian Center and the San Francisco AIDS foundation.
At the closing ceremony at the Veteran's Administration Center in West Los Angeles, the riders protested the milliions of dollars in HIV/AIDS services budget cuts being proposed by the state, according to organizers:
"Holding their helmets or hands over their faces during the ceremony,the cyclists and roadies represented the scores of lives that will belost if legislators approve the proposed $80 million reduction inHIV/AIDS-related services—a roster of cuts which would deny life-savingdrugs to low-income Californians, eliminate HIV testing, counseling andeducation programs, and turn the clock back on years of progress infighting the AIDS epidemic."
The riders ranged in age from 18-78 and each raised at least $3000.
Video interviews with riders and snippets of the trip, AFTER THE JUMP…
ABC News report: