Reuters speaks with political strategist Chad Griffin and producer Bruce Cohen, two board members behind The American Foundation for Equal Rights, which hired Ted Olson and David Boies to mount the federal change to Prop 8, about their motivation and how it all came about.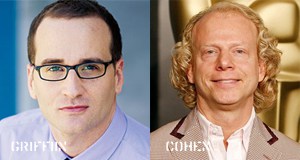 Griffin says friends led him to a conversation with Olson: "Patience is a virtue I've quite frankly never possessed — if patience is a virtue. History is on our side, law is on our side. Half way through that conversation I realized that I was perhaps
sitting across from someone who, if we decided to proceed, could become
one of the most eloquent, important spokespeople in this movement for
equality
Cohen says that his Hollywood background has made him fearless, in a way: "You get into the habit, which I think is a good one, of going for it. From the political world we bring the knowledge that there is no such
thing as a sure thing. From the Hollywood world, everything is a one in
a million chance."
The case has its first hearing in a San Francisco federal district court on July 2
Previously
Board Behind Olson-Boies Challenge to Prop 8 Announced [tr]