Puerto Rican magazine TVAqui twittered that in its next issue Ricky Martin says that his heart could belong to a man or a woman.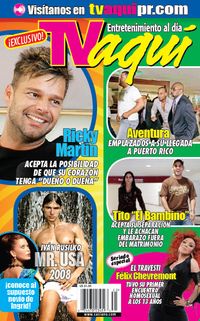 Martin is the father of twins through a surrogate mother.
You may remember that in December 2007, gay skincare guru Ole Henricksen made headlines when he discussed his client, saying "I'd go for Stig Tøfting [former Danish soccer player], but since he's straight, I'd say my client Ricky Martin…[Ricky Martin] is a little more open about it these days than he used to be…I don't know if he has a boyfriend."
Martin has spoken out on the issue of closeted celebrities. In June 2007, when Mexican pop singer Christian Chavez came out, Martin said: "Life is too short to live closed up, guarding what you say.
[Christian] has to be free in many aspects. I wish him much strength."
Fatherhood has had a pull on celebrities to come out in the past. When Clay Aiken came out in September 2008, he attributed the decision to his son: "I cannot raise a child to lie or hide things."