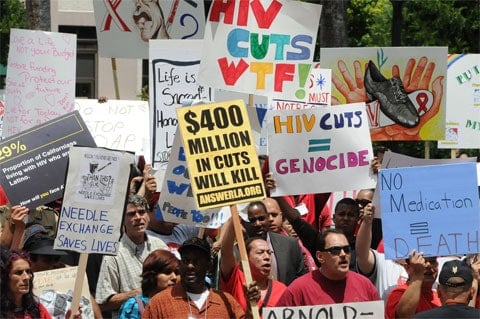 REX WOCKNER
Schwarzenegger, Legislature may slash HIV funding
California Gov. Arnold Schwarzenegger has proposed, and the California
Legislature is considering, draconian cuts to all types of HIV-related
funding in the near-bankrupt state.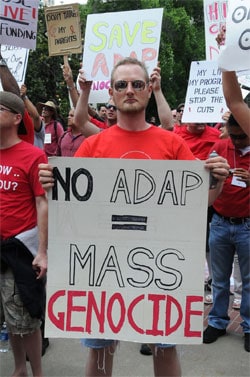 In the worst-case scenario, which is still not off the table, slashes
to the AIDS Drug Assistance Program could result in thousands of
Californians who make less than $41,600 per year losing access to the
state-provided drugs that suppress HIV and keep them alive.
In the apparent best-case scenario, not all HIV drugs would be
available via ADAP and patients would have to pay part of the cost of
the ones they could get. That is problematic because some HIV-positive
people have developed resistance to some HIV drugs, and need access to
the full arsenal of therapies to stay alive.
Further, the current plan apparently completely eliminates state
funding for the tests that determine if a patient is responding to
treatment — such tests as CD4 counts, viral-load measurement and
drug-resistance monitoring.
These tests are essentially mandatory in HIV treatment. Doctors use
them so they can change a nonresponsive patient's drug combination to
another combo that works in that patient — before the patient's immune
system breaks down further and the patient develops a life-threatening
opportunistic infection.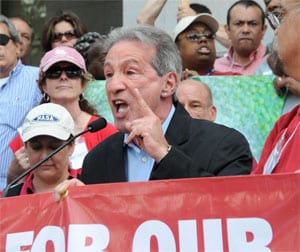 The current plan apparently also dramatically slashes funding for education, prevention, counseling and testing programs.
Some 35,000 working- and middle-class Californians who don't make
enough money to pay for their own treatment could be adversely or
dangerously affected by the possible cuts to ADAP and elimination of
monitoring testing.
Gay and HIV advocates have strongly denounced the budget proposals, and
a large rally was held at the state Capitol in Sacramento on June 10.
Pictured, lower, SF Assemblyman Tom Ammiano.
(photos by Charlie Peer/Outword Magazine)