Chastity Bono, who came out as a lesbian at 18 in 1987 and was outed publicly by Star magazine three years later, is transitioning from female to male, his publicist said today.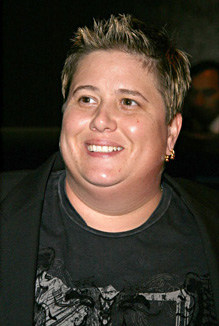 TMZ reports:
"Bono, the child of legendary entertainers Sonny and Cher, began the process earlier this year, shortly after his 40th birthday. 'Yes, it's true — Chaz, after many years of consideration, has made the courageous decision to honor his true identity,' confirmed Bono's publicist, Howard Bragman. 'He is proud of his decision and grateful for the support and respect that has already been shown by his loved ones. It is Chaz's hope that his choice to transition will open the hearts and minds of the public regarding this issue, just as his 'coming out' did nearly 20 years ago.
We ask that the media respect Chaz's privacy during this long process as he will not be doing any interviews at this time.'"
GLAAD's President Neil Giuliano issued the following statement:
"Chaz Bono's decision to live his life authentically represents an
important step forward, both for him personally and for all who are
committed to advancing discussions about fairness and equality for
transgender people. Coming out as transgender
is an extremely personal decision and one that is never made lightly.
We look forward to hearing Chaz's story in his own words in the future. GLAAD encourages media outlets to cover this story accurately, and to
avoid speculation about the details of Chaz's story before he is ready
to share them."
6.12 NOTE and UPDATE: After reading and being disturbed by many of the transphobic comments on this thread, I'd like to say that Towleroad does not condone them and I suggest that some of the commenters here educate themselves more fully on trans issues. Because we have a very open commenting system (which may soon be changing) we can also not fully monitor everything going on on our site all the time. Presently, we rely on our readers to inform us and patrol these areas, and thank you. It's also important to remember that this makes it possible for many of commenters who are not friends to the LGBT community to express their views here. Please try to keep your conversations civil, and please, please do not feed the trolls.