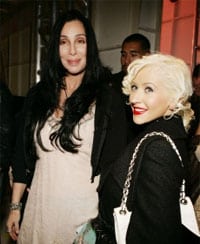 Cher and Christina Aguilera are set to star in Burlesque, Variety reports:
"In what will be her first movie star role in a decade, Cher is set
to join Christina Aguilera in 'Burlesque,' a contemporary musical for
Screen Gems. Steven Antin will direct from a script he wrote that was
revised by Susannah Grant. Aguilera will play an ambitious small-town Iowa girl with a big
voice who comes of age in a neo-burlesque club on Sunset Boulevard
that's run by Tess (Cher), a former dancer who struggles to keep the
club open and gives the young girl a chance to shine. Cher will sing onscreen. While her voice has been heard in many
films, 'Burlesque' will mark the first time she'll be seen singing in a
film she stars in. Cher last starred in 'Tea With Mussolini' in 1999. 
"