The secrets of David Beckham's diet have been revealed.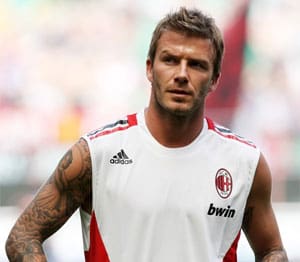 from UK's The List:
"David Beckham likes eating 'little bum'. The soccer
superstar, who is currently playing for Italian team AC Milan,
reportedly has a huge appetite for Culatello – which translates as 'little bum' – an Italian delicacy made out of pig's rears. David
– who has been in the European country since January without wife
Victoria – was first given the food by his club's former manager Carlo
Ancelotti, and the pair have been spotted eating it on a number of
occasions. A source said: 'David can't get enough of this fine
delicacy. It's got a much lighter and less meaty taste than most other
prosciuttos. He's dying to get Victoria to try some.'"