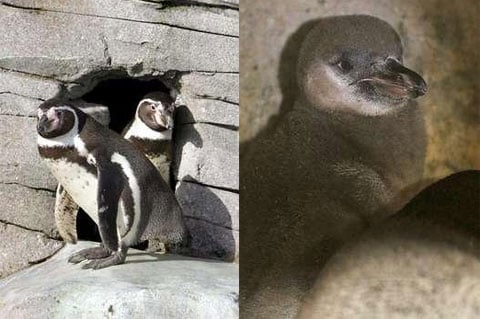 If you've been reading the site since 2005 you may remember that the Bremerhaven Zoo in Germany had three pairs of gay penguins it tried to make straight by importing females from Sweden. It didn't work.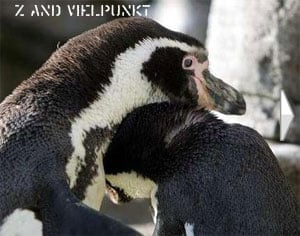 One of those pairs recently took foster care of an egg for 35 days, and hatched it:
"The world-famous gay penguins 'Z' and 'Vielpunkt' have now become proud parents after hatching the egg and adopting the baby chick.
Vet Joachim Schöne said: 'Another couple threw the egg out of their batch. We picked it up and put it in the nest of the gay penguins. On April 25 the chick was born and is now being watched by one of its new dads around the clock.'
It is still unclear whether the chick is male of female – Schöne added that it will only become clear when the feathers are looked at in a lab.
The baby penguin cannot even eat by itself yet. 'The fathers are feeding their young one with fish mash at the moment,' the vet said."