The times are changing, and quickly.
Earlier in the week, the New York Daily News' Elizabeth Benjamin reported that Governor David Paterson was trying to enlist former Senate Majority Leader Joe Bruno, a Republican, to lobby members of his party to vote in favor of the marriage equality bill.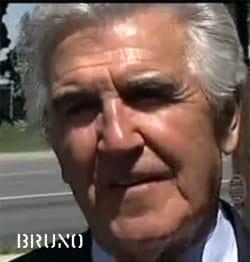 New York magazine wrote: "As the News recalls, Bruno once referred to homosexuality as an 'abnormal lifestyle' and denied Senate staffers domestic health-insurance benefits, though by 2002 he had evolved enough on the issue to push the Sexual Orientation Non-Discrimination Act through the Senate. Despite that apparent progress, in 2007 Bruno refused to bring a gay-marriage bill for a vote in the Senate, and just last year he threatened to pass a Defense of Marriage Act to negate Paterson's directive to state agencies to recognize same-sex marriages performed out of state.Of course, what really ticked Bruno off about Paterson's directive is that it bypassed the legislature, a supposedly outrageous affront to the majority leader's power and authority. Now Paterson may truly need Bruno's help in securing a historic gay-rights achievement, and Bruno is apparently 'considering' the offer."
Well it appears he's considered it. Says Bruno in a new interview: "It's time. Now. For the government to back off, let people make their own life decisions, and about how they care about and who they don't care about…."
By law, Bruno must wait two years to directly lobby state lawmakers (he's been out of office one year) but feels merely making his opinion known could change some minds.
Watch the interview, AFTER THE JUMP…