Randy Price, credited as America's first openly gay news anchor and formerly with WHDH in Boston, will be returning as morning anchor and reporter at WCVB-TV/DT Channel 5 and TheBostonChannel.com.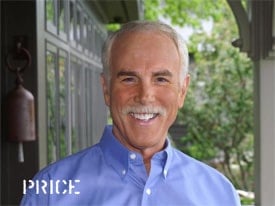 WCVB reports: "One of the most respected journalists in broadcast television, Price
will begin co-anchoring the EyeOpener newscast with Bianca de la Garza
Monday, June 8. He will also contribute to breaking news and major
event coverage for WCVB, the market's news leader…Price's distinguished career has included stints as an anchor and
reporter at WHDH-TV and WBZ-TV. In his twenty plus years on Boston
television, Price has won numerous awards, including a national Edward
R. Murrow Award for best newscast, the broadcast industry's highest
honor. He is also well-known in New England's civic and philanthropic
communities, regularly volunteering his time to raise funds and
awareness for a variety of causes."
Price parted ways for unclear reasons with WHDH last February. He married his longtime partner Mark Steffen on the steps of the Massachusetts State House in January 2007. They live in Maine.