DNC Chair Tim Kaine issues LGBT Pride month statement.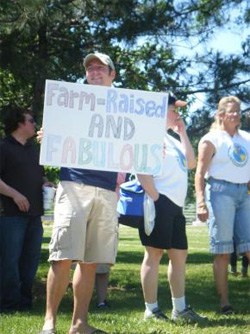 Second 'Million Fag March' held near Topeka's Westboro Baptist Church: "Love, who organized the march, said he picked the Gage Park location
because it is the same place Westboro leader and anti-gay preacher Fred
Phelps began staging his protests in 1991."

Guess which celebrity turned down the offer Eminem accepted to be the butt of Bruno's MTV Movie Awards joke.

Obama names new Army Secretary, Rep. John McHugh: few clues as to position on "Don't Ask, Don't Tell".

Zachary Quinto grows a John Waters pornstache.

Washington Post on the Robert Wone murder case: "So began a real-life parlor mystery — an unsolved killing and alleged
coverup in the guest room of an elegant home in the heart of
Washington's gay community, with a trio of seemingly unlikely suspects:
a self-described "polyamorous family" of three men. The bizarre murder
that evening of a young Ivy League lawyer named Robert Wone, still
grist for gossip and conjecture on the city's gay blogosphere, has
vexed police and prosecutors since the 911 call just before midnight
Aug. 2, 2006." 

THIS was a laugh-and-a-half last night for its pure pathetic-ness.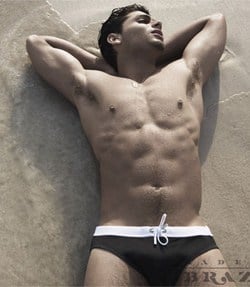 Madonna boytoy Jesus Luz gets a dedicated spread in L'Officiel Hommes.

UGLY: The mindset behind Maine's anti-marriage equality petition drive.

Scotland Yard alarmed at rise in homophobic crimes: "Campaigners say anti-gay violence has surged, and Scotland Yard
statistics reveal a 9% rise in homophobic and transphobic offences to
1,372 in the year to April…Acting Detective Superintendent Gerry Campbell, of the Metropolitan
police, who headed a recent operation against hate crime that led to
292 arrests, said: 'Homophobia cannot be considered a thing of the
past, it's on the increase.'"

L.A.'s Outfest film festival announces 2009 line-up: "The impressive list of films and filmmakers involved with this year's festival include writer-director Peter Bratt's powerful drama 'La Mission' starring Benjamin Bratt, as the Opening Night Gala; Adam Salky returns to Outfest with his stunning debut feature 'Dare' starring Emmy Rossum, Alan Cumming and Zach Gilford, as the Closing Night Gala."

Johnny Depp does Vanity Fair.

Tel Aviv welcomes Mideast's first gay clinic?

Blue whales heard singing off New York coast for first time.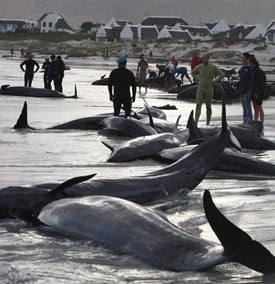 55 Pilot whales die in mass stranding in South Africa: "Authorities shot dozens of exhausted whales that beached on a shore
near South Africa's storm-lashed southern tip Saturday amid scenes of
grief and despair from volunteers who had tried to save them."

Nadine Smith: No excuses. No delays. Do we really mean it?

TIME: How to come out on Facebook…

Band of Thebes looks at the new exhibition at the New York Public Library: 1969: The Year of Gay Liberation. "Fifteen years ago, in honor of Stonewall 25, the library held a huge
lgbt show in the premiere gallery on the first floor, complete with
giant pink triangle banner outside, emblazoned with 'Becoming Visible.'
Now for the 40th anniversary, we get half the hallway on the third
floor."

Gay Ugandan immigrant deported from Britain and then returned is now suing the Home Office: "The 38-year-old originally fled to Britain in 2001, fearing that being gay – which in Uganda can result in life imprisonment or even death – put his life in danger.
He had an outstanding application for a judicial review on his case
when he was taken by four security men and bundled on to a flight to Kampala on September 18, 2008."