While Gay and LGBT Studies programs have been part of the curriculum at some American colleges and universities for a while now, Harvard plans to endow a visiting professorship, and according to the NYT is the first such college to do so: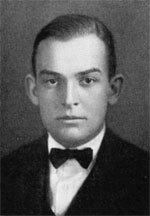 "The visiting professorship, which the university is planning to announce formally as part of commencement exercises on Thursday, was made possible by a gift of $1.5 million from the Harvard Gay and Lesbian Caucus. With the gift, Harvard said it would regularly invite 'eminent scholars studying issues related to sexuality or sexual minorities' to teach on campus for one semester, according to a draft of a university press release.
The chair is being named for F.O. Matthiessen, a Harvard scholar and literary critic who 'stands out as an unusual example of a gay man who lived his sexuality as an 'open secret' in the mid-20th century,' according to the release.
Professor Matthiessen, the release added, 'leapt to his death from the window of a Boston hotel room' in 1950, despondent, at least in part, over the death several years earlier of his partner, the artist Russell Cheney."
Harvard video announcement and endowment page.