A Charity Tribunal in the UK has ruled that Catholic adoption agencies cannot bar gays from adopting for religious reasons: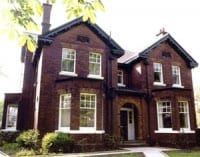 "The tribunal ruled that a 'heterosexuals only' policy in the
adoption field of the Catholic Church in England and Wales would fall foul
of the ban on discrimination on grounds of sexual orientation brought in two
years ago. The Tribunal's ruling leaves leading charity Catholic Care (Diocese of Leeds) (pictured)
facing a deep religious impasse and creates a fundamental conflict between
the tenets of the Catholic Church and the law of the land.
If the charity now sticks to Church policy and continues to follow its "heterosexuals
only" policy it could lose its charity status and public funding.It might also face discrimination claims by same-sex couples it has turned
away in the past"
The charity had been in the process of formally incorporating rules that gays could not adopt based on the tenets of the Church.