The captain of a Boeing 777 from Brussels to Newark, NJ has died mid-flight, Newsday reports: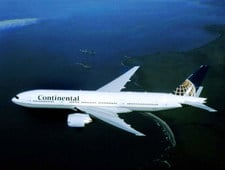 "The FAA stated they heard reports about the captain's death. However,
neither the FAA nor Continental Airlines have confirmed the report. Two first officers on the plane have taken over the pilot's duties. The
aircraft is expected to get special treatment upon landing, from the
Newark Airport tower. Flight 61 is expected to land at Newark Liberty Airport at noon. Medical workers are standing by at the airport and will take custody of the captain's body upon the flight's arrival."