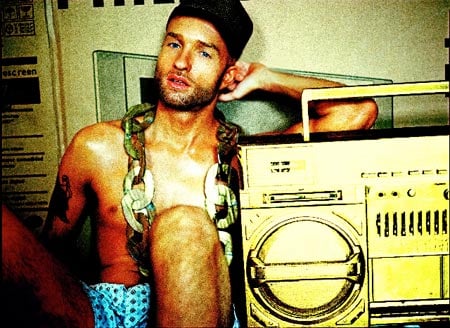 MODERN TONIC
The editors of Modern Tonic present a weekly music update here on Towleroad. The rest of the week, they scan the pop-culture landscape for movie, TV, book and Web recommendations in their daily email.

TODAY'S NEW RELEASES AND FREE DOWNLOADS
"Homo-hop" artist Cazwell – born Luke Caswell in Worcester, MA — loves to use his mouth. On the title track of his second album, Watch My Mouth, the openly gay rapper talks about how that mouth can "lick it, slurp it, slide it, shake it, bake it, stir it, fry it," and that's just for starters. A mix of spanking new grooves and previously released tracks from his debut Get Into It, Cazwell creates a homo-centric hip-hop fusion with some old school samples and icy electro-clash synths, from the love-rap "Tonight" – featuring Shannon's "Give Me Tonight" — to the celebrity bitch-slap "I Seen Beyoncé at Burger King."
Most of the time, though, Cazwell raps about bizness as usual — "All Over Your Face" is about, oh, just guess. He's such a sex-positive fiend he's like Peaches with a penis (although that might be redundant).
For a user-friendly taste of Cazwell, check out the FREE DOWNLOAD "Money Back."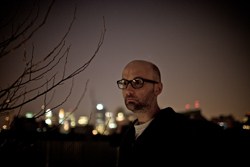 Techno-head Moby — inspired by a speech from his friend David Lynch regarding creativity for its own sake — follows his chill, ambient muse to the evocative Wait for Me. Featuring vocals from  Amelia Zirin Brown, first single "Pale Horses" gets a Gui Boratto Last Window Mix on this FREE DOWNLOAD. 
"Wanderlust" isn't just a song from Björk's Volta — it's her way of life, documented on the live performances/videos of her latest release, Voltaïc (available in 2CD/2DVD, CD/DVD and single CD formats).
The musical once known as Bounce — Stephen Sondheim's Road Show —  gets its belated original cast recording, featuring Michael Cerveris and Alexander Gemignani.
On Wilco (The Album), the Telly Savalas/Wilco connection's finally
revealed in "Wilco (The Song)": "Wilco will love you, baby." Kojak
couldn't have said it better.
Two-step on over and spend an American Saturday Night with country superstar Brad Paisley (though, to be honest, any old night would do).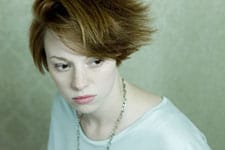 Across the pond, hotly tipped electropop duo La Roux finally drop their
self-titled debut. We know you've heard a lot about them already (both
here and nearly everywhere else), but get used to it. Elly Jackson and
Ben Langmaid's Yazoo/Eurythmics homage deserves mention, especially
Jackson's shape-shifting vocals — one second she's an Alison Moyet soul
sister ("Colourless Colour") and the next she's Joni Mitchell in a sea
of synths ("Cover My Eyes").  A U.S. release is due September 29.
Also released:  Rob Thomas — Cradlesong; Tanya Tucker — My Turn; The Woodstock Experience (box set); Nouvelle Vague — 3 (import).

MUSIC NEWS
As far as the music world is concerned, there's little else going on this week in the long shadow of Michael Jackson's tragic death. As much as we would love to wax nostalgic on the brilliance of his music, everyone else has been doing that for days….so we've opted to present a few business items related to his passing:

The New York Times ran a comprehensive, and fascinating, story over the weekend about the tangled mess of Jackson's personal finances. Sadly, the article points out that the estate
may soon be in better shape than ever, with a significant influx of cash to put towards its debts (thanks
to the explosion of sales of his music), while money will no longer be
going out to pay for Jackson's famously excessive lifestyle.

The 750,000 ticket buyers for what were to be Jackson's "This Is It!" shows at London's O2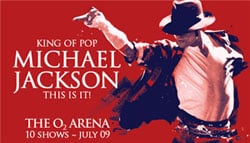 Arena will be offered the option to keep the actual ticket as a (very pricey) souvenir instead of obtaining a refund.

In addition to having filmed an entire run-through last week during "This Is It!" rehearsals (expected to be released as a concert CD/DVD), Jackson also spent nine days earlier this month shooting a top-secret 3D video that was to be shown behind him while he performed at the London shows. Technology was provided by the company working on James Cameron's forthcoming Avatar. Plans for what was Jackson's final video shoot have not yet been announced.

With Jackson memorabilia auctions proliferating on eBay and sales of his albums topping charts worldwide, this is only the beginning of a long and lucrative business of merchandise sales in the time-honored tradition of the likes of Elvis Presley and Marilyn Monroe.

U.S. radio airplay for Jackson's hits jumped 1,735% after last Thursday. "Billie Jean" was played the most.

MUSIC VIDEOS

Martin Solveig ftrg. Dragonette: "Boys & Girls"
The French DJ-producer joins the Canadian electropop kids for an Astaire/Rogers romp through The House of Gaultier. C'est magnifique!
God Help The Girl: "Come Monday Night"
The song doesn't start until 1:30 into the video, but it's worth the wait for Stuart Murdoch's (Belle & Sebastian) tribute to swinging 60's U.K. girl-pop featuring the smooth-as-glass vocals of Catherine Ireton.
Marina And The Diamonds: "I Am Not A Robot"
Welsh-born Marina Diamond looks like Catherine Zeta-Jones, sounds like Regina Spektor and acts like a body-painted Björk in this colorfully quirky video.
Rockwell: "Somebody's Watching Me"
Our homage to Michael Jackson is from 1984. This video for the paranoia anthem, by Motown chief Berry Gordy's son, Rockwell, features Jackson's unmistakably sweet and catchy chorus. The King of Pop is dead; long live the King.