The Washington Times reports that Obama is considering gay COO of the Intrepid Museum Foundation William White for an undisclosed high-ranking post at the Pentagon: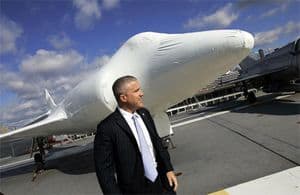 "President Obama is considering nominating an openly gay man to a top
civilian Pentagon post as he seeks to temper growing criticism from gay
rights advocates that he has not been bold enough on their issues. Under fire for not lifting the ban on gays serving in the armed
forces and for defending a 1996 law curbing federal recognition of
same-sex unions, Mr. Obama took steps Wednesday to expand benefits for
gay partners of federal workers. He made the move as The Washington
Times learned that the president was considering nominating William
White, president of the Intrepid museum in New York, to a civilian
Pentagon post that would make him the highest-ranking openly gay person
in the department."
Back in December, there were murmurs that White was under consideration for appointment as Secretary of the Navy. On March 27, Obama nominated former Mississippei Governor Ray Mabus to the position.