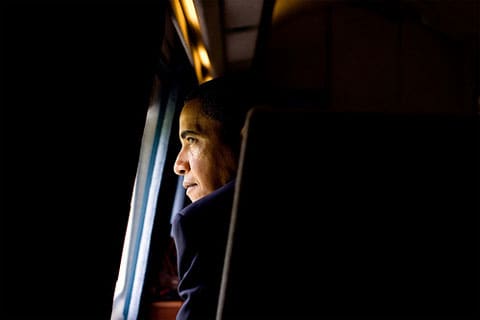 WHITE HOUSE ATTEMPTS DAMAGE CONTROL
updated
Following days of fury over the Department of Justice defense of DOMA brief and a day in which next week's Democratic Party LGBT fundraiser was challenged by several high-profile boycotts, the White House appeared to be nudged from its slumber on LGBT issues.
 The AP is reporting: "President Barack Obama plans to extend healthcare and other benefits to the gay and lesbian partners of federalemployees. White House officials say Obama plans to announce decision onWednesday in the Oval Office. The official spoke on the conditionof anonymity because the president had not yet made theannouncement. The move would give partners of federal employees access tohealth care and financial benefits such as relocation fees formoves. Officials say Obama would detail more details of thedecision on Wednesday."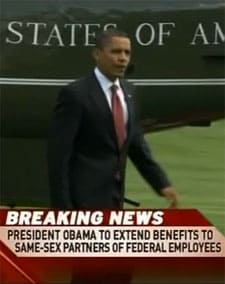 The NYT reports: "…administration officials said the timing of the announcement was intended to help contain the growing furor among gay rights groups. Several gay donors withdrew their sponsorship of a Democratic National Committee fund-raising event next week, where Vice President Joseph R. Biden Jr. is scheduled to speak."
A press conference "regarding federal benefits and non-discrimination" is scheduled for Wednesday evening.
Americablog notes: "Unfortunately, federal benefits for gay federal employees is not even one of the eight campaign promises Obama made to our community (there are only seven now on the White House Web site – the DOMA promise went down the memory hole about two months ago)."
Announcement of benefits to be a "memorandum" and is not expected to include health benefits…
Said Empire State Pride Agenda executive director Alan van Capelle to Politico: "Welcome to 1999. How revolutionary of the WhiteHouse to give benefits to same-sex couples, when two-thirds ofconservative Wall Street are already doing it. What an achievement. It's just one of the things that should have been done in January…If the President makesthe announcement tomorrow, it will still fall short of what LGBT peopleare expecting from this administration."
Will this stop the bleeding? Don't think so.
Rachel Maddow's coverage of the story, AFTER THE JUMP…
MORE: Servicemembers Legal Defense Network urges President to address "Don't Ask, Don't Tell" at press conference.
(official White House photo by Pete Souza)