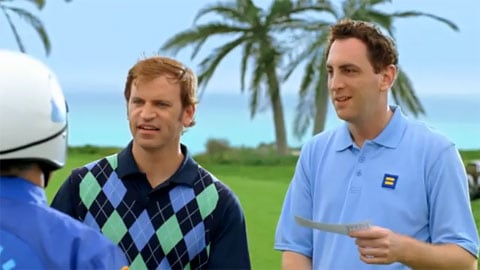 Some brand placement from the Human Rights Campaign can be seen in a new commercial from Orbitz travel in which a group of golfers is interrupted by an Orbitz representative who presents them with checks for the savings they earned booking with the travel company.
Neither the group's name nor any mention of the word "gay" is present in the ad but the recognizable HRC logo is prominently featured on one golfer's shirt (we'll have to assume that's the stealth gay guy's golf bag with the rainbow towel hanging on it).
"Orbitz reached out to HRC and asked to license use of our logo on the shirt in the ad," HRC's Director of Media Relations Brad Luna told Towleroad in an email, "And since Orbitz is a company that has a strong history of reaching out to the LGBT community and has a perfect 100% on the Human Rights Campaign Foundation's Corporate Equality Index, we allowed them to use that shirt."
Watch the spot, AFTER THE JUMP…