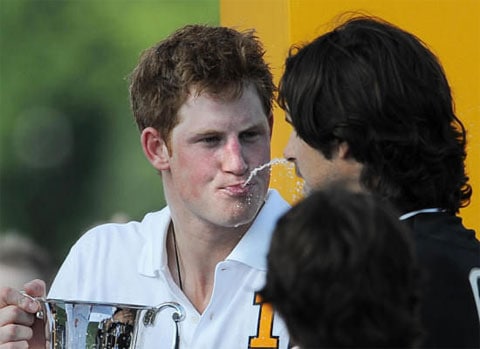 Prince Harry visited New York City over the weekend and played Polo on Governor's Island:
"On a brilliantly sunny day on Governors Island in New York Harbor,the 24-year-old prince drew a crowd that included stars like Madonna,actresses Kate Hudson and Chloe Sevigny, and rapper LL Cool J, but alsolots of ordinary New Yorkers out for a rare sight: a polo game in thecity. 'You see this out in the Hamptons, but not so much in thecity,' said Vincent Hodgins of Manhattan, who brought his two sons towatch the prince play. The Veuve Clicquot Manhattan Polo Classicwas a fundraiser for Sentebale, the charity that Harry has set up withPrince Seeiso of Lesotho to help poor children and AIDS orphans in thatsmall African nation surrounded by South Africa."
He also spit Champagne on world class Argentinian polo player Nacho Figueras after the athlete and model doused him with it.
Watch Matt Lauer's interview with Harry, AFTER THE JUMP…