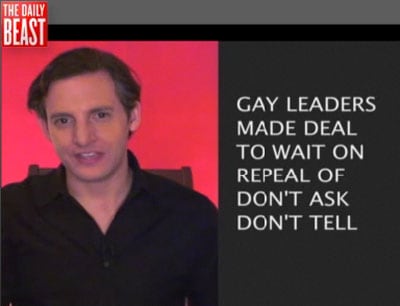 In a new report at The Daily Beast, Jason Bellini claims that Senator Chuck Schumer (D-NY) "let slip" to a number of gay leaders that the Human Rights Campaign told him that "Don't Ask, Don't Tell" is not the White House's priority.
According to Bellini, gay leaders in Washington made a deal with leaders in the House to not push for DADT until sometime next year. "Congressional sources" tell Bellini that HRC wants to focus on a federal hate crimes bill and the Employment Non-Discrimination Act (ENDA) first.
HRC denies there is any such deal.
Watch it, AFTER THE JUMP…