Senate Majority Leader Harry Reid said he's waiting for the House to take action on a bill that would repeal the ban on gays in the military, and there are no plans to introduce a bill in the Senate, The Advocate reports.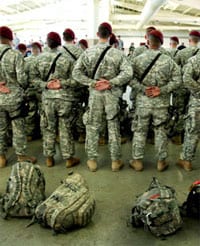 Said Reid: "I haven't
identified any sponsors. My hope is that it
can be done administratively."
And, of course, the White House has said that it won't halt discharges by executive order.
Said Press Secretary Gibbs a month ago: "To get fundamental reform in this instance requires a legislative
vehicle. The president made a promise to change this
policy; he will work with the Joints Chiefs of Staff, the
administration and with Congress to ensure that we have a policy that
works for our national interests…There have been discussions about the best way to move forward, and the
only sustainable way to do that is through — sustainable and durable
way — is through legislation, which the president has promised and has
continued to work for."