The NYT wonders if Sacha Baron Cohen's upcoming film Bruno will amuse or outrage: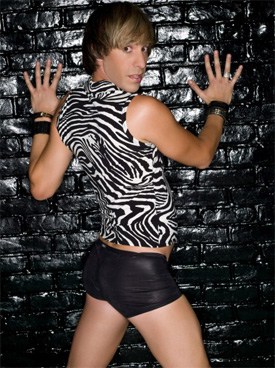 "Mr. Baron Cohen declined to be interviewed for this article, as didLarry Charles, who directed the film (as well as 'Borat'). Universalalso declined to make a production executive available for aninterview, providing the following statement instead:
''Brüno'uses provocative comedy to powerfully shed light on the absurdity ofmany kinds of intolerance and ignorance, including homophobia. Byplacing himself in radical and risky situations, Sacha Baron Cohenforces both the people Brüno meets and the audience itself to challengetheir own stereotypes, preconceptions and discomforts. While anywork that dares to address relevant cultural sensitivities might bemisinterpreted by some or offend others, we believe the overwhelmingmajority of the audience will understand and appreciate the film'sinarguably positive intentions.
"The studio has twice shownunfinished versions of 'Brüno' to the Gay and Lesbian Alliance AgainstDefamation and said that test audiences have come away with a clearunderstanding of the film's positive social message. Universal alsosaid that it screened 20 minutes of unedited footage at a Texas filmfestival this year, and that blog coverage was overwhelmingly upbeat."
The Human Rights Campaign feels a disclaimer should run before the film: "We strongly feel that Sacha Baron Cohen and Universal Pictures have aresponsibility to remind the viewing public right there in the theaterthat this is intended to expose homophobia."
Of course, that would be a little like telling people before Friday the 13th that they're supposed to be scared.
Trailer, AFTER THE JUMP…