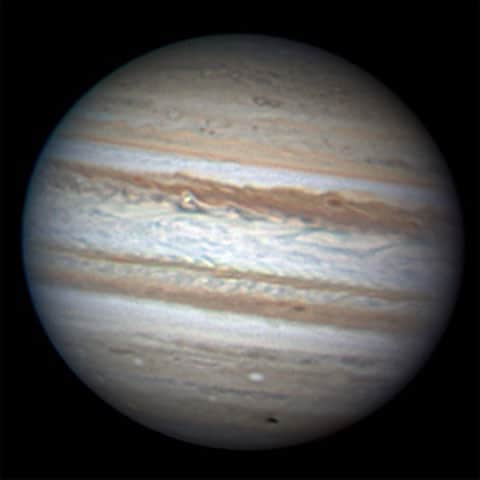 Anthony Wesley, a 44-year-old amateur Australian astronomer astronomer using a backyard telescope, discovered a dark scar approximately the size of the Earth in a polar region of Jupiter on Sunday and alerted NASA:
"In a remarkable twist of fate, the discovery was made on the 40thanniversary of the Apollo 11 moon landing and the 15th anniversary ofanother large comet strike on Jupiter. Wesley, who spends about20 hours a week on his passion of watching and photographing Jupiter,spotted the strike using the telescope at the bottom of his garden inMurrumbatema at about 1am yesterday (4pm BST on Sunday)…Wesley emailed scientists at Nasa's jet propulsion laboratory inPasadena, California. Using Nasa's infrared telescope facility at thesummit of Mauna Kea, Hawaii, they gathered evidence indicating animpact. 'We were extremely lucky to be seeing Jupiter at exactlythe right time, the right hour, the right side of Jupiter to witnessthe event. We couldn't have planned it better,' said Glenn Orton, ascientist at the Pasadena lab.'It could be the impact of a comet, but we don't know for sure yet,' he said."
The "scar" in question is the black dot at the bottom of the planet in the top photo. The dot is enhanced below by infrared imaging.
Additional images, AFTER THE JUMP…