Author E. Lynn Harris has died while on a west coast book tour, Arkansas Sports reports: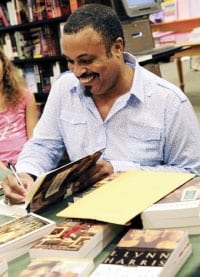 "Harris, a best-seller whose work dealt with black, gay culture and delved into athletics, was a passionate Razorbacks fan. For the past eight semesters, Harris served as a 'visiting' professor for the English department…Most recently, Harris' wrote his 11th novel, 'Basketball Jones', which involved an NBA player and the player's gay lover. Before 'Basketball Jones,' Harris penned 'Just Too Good To Be True,' a novel detailing the life of Heisman Trophy candidate Brady Manning. Harris' novel focused on the pressures surrounding Manning and the support system the star athlete leaned on to help him through dark and troubling times."
A Random House executive confirmed the death to BV Newswire. There are no further details about the cause of death, though the Arkansas Times reported hearing the author suffered a "serious health setback" earlier today.
The Arkansas Sports site did not name a source. I will publish any updates that come in here.
Patrik Ian Polk, the creator of Noah's Arc, was scheduled to see Harris today, and reported via Twitter that Harris went into cardiac arrest last night after dinner at his hotel in Beverly Hills.
UPDATE: "Publicist Laura Gilmore says Harris died Thursday night after being stricken while at the Peninsula Hotel in Beverly Hills. Gilmore says a cause of death had not yet been determined. A coroners' official in Los Angeles said only that a man matching Harris' name and date of birth had died Thursday night at Cedars-Sinai Medical Center."
UPDATE II: New York Times obituary – "Mr. Harris clearly tapped a rich vein of reader interest with hisracy and sometimes graphic tales of affluent, ambitious, powerful blackmen — athletes, businessmen, lawyers and the like — who nonethelessstruggled with their attraction to both men and women. His booksmarried the superficial glamour of jet-settingpotboilers with an emotional candor that shed light on a segment ofsociety that had received little attention: black men on the down low —that is, men who are publicly heterosexual but secretly have sex withmen. Mr. Harris, who was openly gay but who lived for many yearsin denial or shame or both over that fact, was able to draw on his ownexperiences to make credible the emotional conflicts of his characters,and his readers, many of them women, were drawn to his books becausethey addressed issues that were often surreptitiously pertinent to their own lives."
Harris was the author of 12 novels, a memoir, and many stories.
Harris in a 2006 interview with CBS News Julie Chen, AFTER THE JUMP…