The San Diego Comic Con is currently underway.
It's a massive moneyed event each year with Hollywood giants like Tim Burton, Robert Downey Jr, Johnny Depp, James Cameron and Peter Jackson arriving to tease potential blockbusters like Iron Man 2, Avatar, District 9, The Twilight Saga: New
Moon and Alice in Wonderland. Unfortunately the comic book
industry is still not supporting the boycott of the Manchester Grand
Hyatt, owned by Doug Manchester who donated $125,000 to Prop 8. Sadly, as Andrew Wheeler at the post-game show pointedly
reminds us most heroes are of the fictional variety.
"The problem – and it's an appreciable one – is that the San Diego
Comic-Con is huge, and the Manchester Grand Hyatt is only two blocks
from the convention centre, and it is traditionally the social and
business hub of the whole event. Most of these people work on
superheroes, but they are not heroes. They will not do the right thing
if it's inconvenient to their business, or worse, to their buzz."
Well said.

"Captain Jack" John Barrowman goes full frontal for Torchwood: Children of Earth… albeit in low res surveillance camera form [NSFW… if your boss has very good eyes]

It's not unusual to hear about straight porn stars in mainstream news — even Entertainment Tonight covers that — but
gay porn? I was surprised to see the LA Times giving space to covering Michael Lucas's Men of Israel
tagged "the first gay porn film to feature an all-Israeli cast". Tablet,  a
Jewish magazine, goes into far greater detail.

Old Hollywood fans take note: There's a blooper reel from My Man Godfrey, easily one of the funniest movies ever made. Who
knew such a thing existed? Here's your chance to hear Carole Lombard
swear like a sailor. But wait there's more… Bogie, Cagney Bette Davis and Jimmy Stewart also flubbing lines and having a laugh about it.

Did you feel there was abundant gay subtext in Harry Potter and the Half-Blood Prince. It was discussed a few days back but here's another take.


60s sex symbol and enduring actor Terence Stamp just turned 70. In honor of The Adventures of Priscilla's "Bernadette" (one of his most indelible characters) disable the ABBA on your iPods today.
"I've said it before and I'll say it again. No more fucking ABBA."
Speaking of ABBA…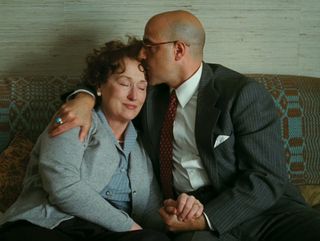 Can Meryl Streep manage a third consecutive summer blockbuster and a 16th (!) Oscar nomination with JULIE & JULIA at the ripe age of 60? I suspect so. I saw the movie last night and as you might expect when an actress as delightful as Meryl Streep plays a woman as delightful as Julia Child, it's well… delightful (Where's my thesaurus?). Some people will quibble with this or that element of the film but it's fun. The rapport between Stanley Tucci and Streep (playing husband & wife this time instead of servant & master a la Devil Wears Prada) is still strong and highly watchable. Nods to their robust sex life get two very big laughs. The movie opens on August 7th.
Some people are already wondering if Streep's vocal impersonation of Julia Child sounds too much like "Mrs. Doubtfire". Hmmm, I don't know. Doesn't Mrs. Doubtfire sound too much like Julia Child? Which came first: the chicken or the egg? It's a question that doesn't need to be asked or answered, especially since both chicken and egg have been drenched in Child's beloved butter.