More details about the circumstances surrounding the murder of gay seaman August Provost at Camp Pendleton on June 30 have been released. Authorities maintain that Provost's murder was not related to his sexual orientation but part of a string of crimes by Petty Officer 2nd Class Jonathan Campos: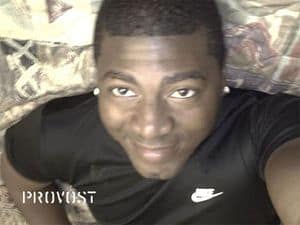 "Campos, 32, of Lancaster, faces 16 charges, including murder, arson, unlawful entry, theft of military property and wrongful possession of a firearm. He also is charged with soliciting a civilian in San Diego to murder another sailor the day after Provost's killing.
Brown said Campos and Provost served in the 500-member assault craft unit, whose members are trained to pilot jet-powered hovercraft onto beaches for amphibious operations.
They likely had met before, he said, but there's no evidence to suggest they knew each other well. Campos had served with the unit for most of the past two years, while Provost joined the Navy in March 2008 after completing three years of college and had joined the unit last September.
Navy officials accuse Campos of using hallucinogenic mushrooms several times between May 1 and June 2.
On June 13, he allegedly broke into the off-base home of a fellow service member in San Diego and stole an Xbox computer-game system, jewelry and a .45 caliber Kimber pistol. The same pistol was used to kill Provost, investigators allege.
On June 20, Campos was picked up for driving under the influence. About a week later, he faced administrative punishment from his Navy commanders.
At the time, Brown said, the Navy had not linked Campos to the home burglary.
About 11:30 p.m. June 30, Provost took his post at a guard shack along the driveway to the assault craft unit's entrance.
Sometime before 3:30 a.m., Navy officials allege, Campos approached the guard shack, shot Provost several times and stole his 9mm Beretta service pistol. Campos then allegedly set fire to the shack – with Provost's body still inside – using gasoline and a lighter."