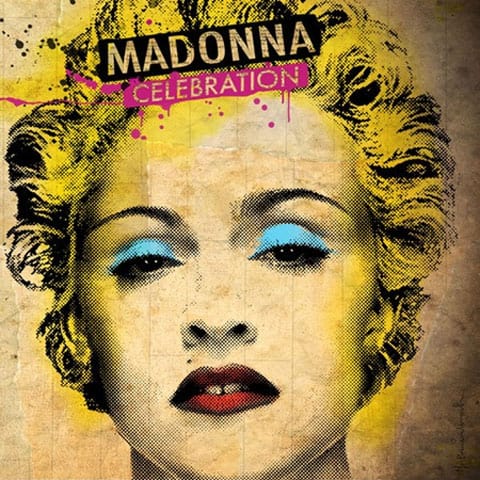 Here's the official cover for Madonna's new Greatest Hits collection, called Celebration. The album's cover was designed by an artist called Mr. Brainwash.
Madonna emphasizes a return to the "pop" past with this cover  — no doubt derivative of Warhol, Banksy…there's even a suggestion of Roy Lichtenstein Ben-day Dots in that image.
Via press release: "The songs on Celebration have all been remastered and selected by Madonna and her fans. They cover the expanse of the Material Girl's extraordinary career of hits including "Everybody," "Express Yourself," "Vogue" and "4 Minutes." "Celebration" will be available in a two-CD set as well as a single CD. There will also be a "Celebration" DVD released simultaneously which includes the video visionary's best videos including several that have never before been available on DVD."
There are two new songs on the album. The first is a Paul Oakenfold collaboration that goes to radio on August 3rd called "Celebration". The Hits collection is out September 28 in the U.S.
Matthew Rettenumund at Boy Culture has posted a very low quality rip of the new track.