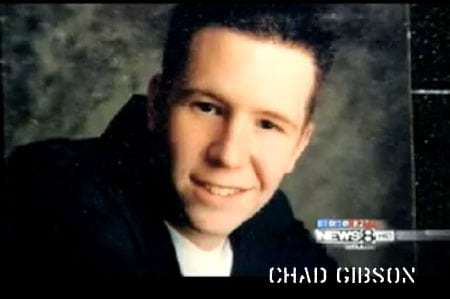 Here's an update on activity following the Stonewall-style raid on the recently-opened Rainbow Lounge bar in Fort Worth, Texas which resulted in seven arrests for "public intoxication" and a massive head injury to one of the patrons of the bar.
Tonight, there is a candlelight vigil at 8:30 pm at the Rainbow Lounge (651 South Jennings Ave), where the raid occurred, in honor of injured victim Chad Gibson (more on his condition below). Gibson's arrest pictured, below right.
Gibson's mother speaks out, AFTER THE JUMP…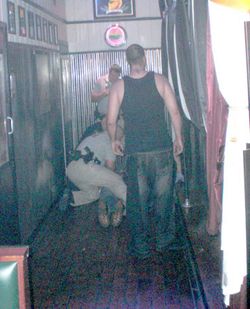 Here's the sickest bit of news about it I've read so far, a statement by Fort Worth police chief Jeff Halstead (via Dan Savage): "Monday,police chief Jeff Halstead said the officers' actions are beinginvestigated. However, he also said that officers that entered the barduring the scheduled inspection were touched inappropriately. 'You're touched and advanced in certain ways by people inside the bar,that's offensive,' he said. 'I'm happy with the restraint used whenthey were contacted like that.'"
Read that last sentence again. As Savage translates: "Them faggots in that thar bar touched mah officers and now they'recomplainin' about some rough stuff and one little ol' faggot with abrain injury? Those perverts should be grateful they're alive."
Classic gay panic defense.
The Fort Worth Police also say that Gibson, at the time of his arrest, was in the custody of a State Police officer, not one of the FWPD.

The Rainbow Lounge Raid's Facebook page is growing at a steady rate. An article in the Star-Telegram highlights new media's role in getting the word out about this incident.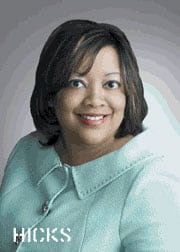 Fort Worth Mayor Pro Tem Kathleen Hicks has called for an immediate and comprehensive investigation:
"I join with Councilman Joel Burns in wanting all citizens of Texas and Fort Worth to know and be assured that the laws and ordinances of our City will be applied fairly, equally and without selective enforcement or targeting. As an African American I understand the distrust and fear that grows throughout a community when the belief that there is no recourse or protection is allowed to grow and fester."
Equality Texas has demanded that Mayor Moncrief and all Fort Worth City Council members call for an investigation. They have provided a FORM LETTER that will be sent to municipal officals.
An update on Chad Gibson, the man who sustained a head injury during the raid, from his sister Kristy Morgan:
"Kristy said the most recent CAT scans have shown that the blood cloton Chad's brain has stopped growing, which is good news, but he is notout of the woods yet. She said doctors told the family that as long asthe clot remains — whether it is growing or not — there is the chancethat all or some of it could break loose and cause severe damage ordeath, or that the bleeding could start up again. At this point, Kristy said, doctors are not talking about having todo surgery to repair the bleed or remove the clot. They believe thatthe clot will eventually dissolve and be reabsorbed into the body, butthat could take anywhere from six months to two years. Chad will likely be hospitalized at least for the rest of this week,and will then have to have follow-up appointments and consultationswith a neurosurgeon."
Chad Gibson's mother speaks out, AFTER THE JUMP…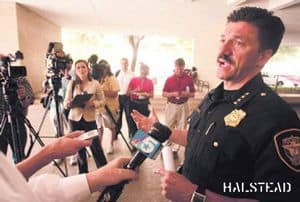 There was a public forum with Fort Worth Police Department chief Halstead:
"After the meeting had started, Chief Halstead announced thatthe director of the Texas Alcoholic Beverage Commission had just issueda statement acknowledging that Chad Gibson, who has been hospitalizedwith a head injury since the incident, was injured while in the custodyof TABC agents. Chief Halstead said that determining who was responsible forGibson's injury has been the priority of his department's investigationso far. Now that that is settled, the chief said, the focus for hisdepartment will turn to getting as much information as possibleregarding the actions of FWPD officers during the incident. To that end, he is asking that anyone and everyone who was at thebar that night and was an eyewitness to the events contact Capt. Garciaat 817-392-4270 to give their account. He said it is vital to athorough investigation to get as much information as possible fromthose who were there."
Chad Gibson's mother speaks out, AFTER THE JUMP…
And a report from DFW.com: