Hawaii football coach Greg McMackin repeatedly used an anti-gay slur at a media preview on Thursday and then attempted to persuade the media to not report on it, the Idaho Statesman reports: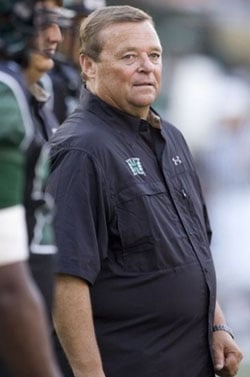 "Hawaii football coach Greg McMackin said Thursday at the WAC media football preview that Notre Dame did 'this little faggot dance' at a banquet the night before last year's Hawaii Bowl.
McMackin used the term 'faggot' three times while explaining why Notre Dame was so fired up to play Hawaii in the game, which the Fighting Irish won 49-21.
McMackin responded to the Notre Dame clapping tradition by having his players do the ha'a, an intense Polynesian dance and chant the Warriors do before games.
McMackin said Notre Dame coach Charlie Weis got up at the banquet and told the crowd, 'We do something special at Notre Dame.' 'And they get up and they do this little cheer, like this,' McMackin said Thursday, doing a rhythmic clap. 'You know, this little faggot dance.'
Once McMackin saw Notre Dame's team demonstration, he gave his players the signal — the shaka — to do their ha'a."
McMackin apparently pleaded with the press not to report on the slur: "I want to officially, officially apologize…Please don't
write that statement I said as far as Notre Dame. The reason is, I
don't care about Notre Dame. But I'm not a — I don't want to come out
and have every homosexual ticked off at me. You know what I mean.
Because I don't have any problem with homosexuals. But I apologize for
saying that and I'd appreciate it if you wouldn't run that word. If you
said dance, that's OK. But don't use the bad term that I chose, please.
Thank you."
"Once it was clear that McMackin's comments would be reported, he made another statement to the media. 'I would sincerely like to apologize for the inappropriate verbage,
words that I used,' he said. '… I'm really ticked off at myself for
saying that. I don't have any prejudices and it really makes me mad
that I even said that and I'm disappointed in myself. … What I was
trying to do was be funny and it's not funny and even more it isn't
funny to me. I was trying to make a joke and it was a bad choice of
words and I really — I really, really — feel bad about it and I wanted
to apologize. I'm going to apologize to my team. I'm going to apologize
to the people in Hawaii.' A Notre Dame spokesman said the school likely would not comment."