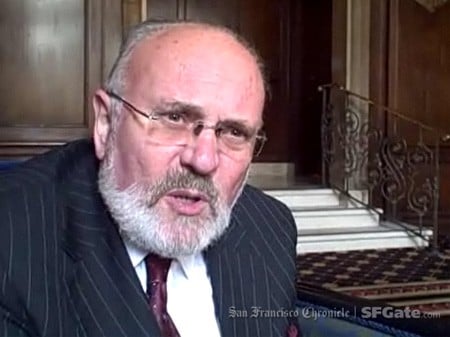 The first openly gay politician to be elected in Ireland, Senator David Norris, was in San Francisco yesterday for a speaking engagement. Norris, who is seen as Ireland's Harvey Milk according to SF Chronicle, had some kind words about Mayor Gavin Newsom and some thoughts on marriage equality.
Watch, AFTER THE JUMP…
According to the paper, "In the 1980s, Norris filed a landmark case to decriminalize homosexuality, taking the Irish Attorney General to court. He lost in both the Irish High Court and the Supreme Court, but was not deterred. With Mary Robinston (sic) — later Ireland's President — as his attorney, the case of Norris v. Ireland eventually would be heard before the European Court of Human Rights, which ruled in his favor and changed Irish law forever.Norris says he expects that fight for marriage equality will go on — and says that supporters shouldn't be deterred by some, even in the gay community, who suggest it's 'not time' to challenge the issue of same sex marriage before the Supreme Court.Rubbish, he laughs. 'I want the whole lot now, with the cream and cherry on top,'' he says. 'And an apology.''"
Love him!