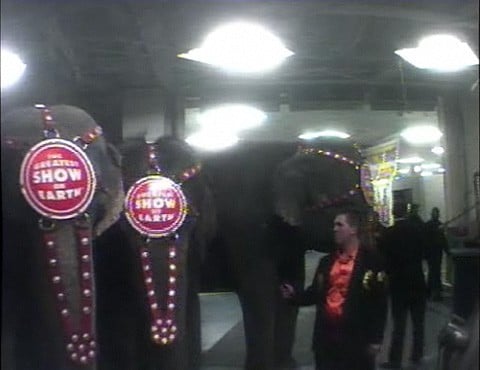 PETA went undercover at Ringling Bros. and Barnum & Bailey Circus and today released a video documenting animal abuse, specifically against elephants and tigers, at Ringling Bros. Circus.
"A worker with People for the Ethical Treatment of Animals used a secret camera to document what the group calls the abuse of animals as they're led from holding pens to the stage.The animals are seen herded together, wearing headdresses, while trainers stand around, appearing to randomly whip them with bull hooks across the head, legs and body.Loud cracking noises can be heard.In one scene, a handler curses an elephant, saying, 'F— you, fat ass' before using his whip to nonchalantly strike its trunk.The elephants are led with a bull hook – a long pole with a metal point at the end – used to pull them by the trunk.The undercover PETA employee scored a job with Ringling Bros. and Barnum & Bailey Circus and traveled with the circus as it toured seven states, a spokesman said."
A website has been launched exposing the circus.
Watch the video, AFTER THE JUMP…
Visit RinglingBeatsAnimals.com
As an addendum to this post, here's the documentary mentioned by commenter E about an elephant being freed to reunite with another elephant after 20 years. Thanks for the link, Mike.