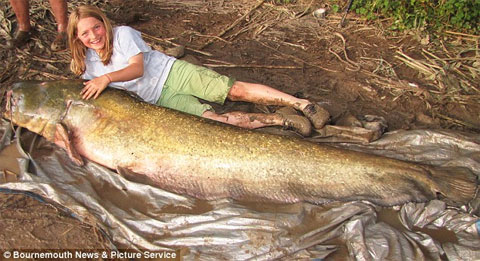 Note: above photo for illustration purposes only, via Daily Mail.
A lesbian couple attending a catfish derby in Huntington Oregon says the local Lions Club violated anti-discrimination laws when it wouldn't charge them a couples discount, Lambda Legal reports:
"On May 22, Angela and Tina Corriere-Gooch attended [the] derby with their family. As the group approached the
registration area that evening, a club representative explained that
the event pricing included a discount for couples and added, 'but none
of this boy-boy, girl-girl couples crap.' When another man in the room
suggested that Angela and Tina should be given the discount if they
could document their relationship status, the club representative
stated that this is how the club has "always done it," and that the
club had no intention of changing its policy. Adding insult to injury,
the Corriere-Gooches' young nieces and their boyfriends were given the
"couples" discount, while Angela and Tina both were charged the full
admission price. 'It's insulting and degrading that the club treated us like
strangers, instead of recognizing our committed relationship,' said
Tina Corriere-Gooch."
According to the Baker City Herald, "Mike Raney of Huntington, a Lions Club member and chairman of the
catfish derby, said his decision to deny the $1 couples discount to the
Corriere-Gooches had nothing to do with their sexual orientation. 'I wasn't making any statement against lesbians, I'll tell you that
right now,' Raney said Friday morning. 'I have nothing against them at
all. I was just trying to run a catfish derby.' Raney said he refused to give the couple the discount because he
figured that if he did so he would have to extend the same offer to
other pairs of anglers of the same gender, regardless of their sexual
orientation. Raney said he will write an apology letter to the Corriere-Gooches.
"