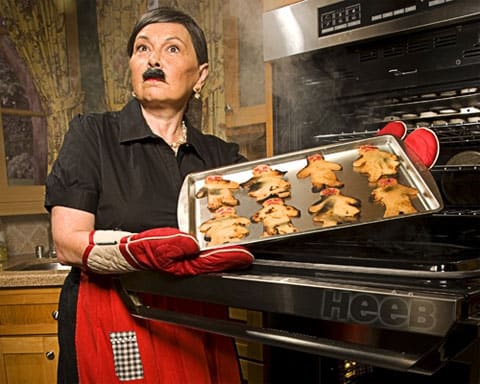 Apparently, the comedienne has no fears about wading back into controversy.
Heeb magazine writes of the photo shoot: "As the 'Domestic Goddess' dons the famous moustache, transforming
into 'Domestic Goddess Hitler,' I notice that she's beginning to have
fun. She nails the Fuehrer's facial expressions with twisted glee, and
as she takes the burnt gingerbread 'Jew Cookies' out of the oven it
occurs to me that Barr may be the last celebrity utterly incapable of
giving a fuck—a quality theoretically easy to embody until it's time to
face the practical repercussions…As we wrap up the shoot, Barr puts her Swastika armband, one of
the gingerbread victims and a Polaroid of herself in the costume in a
Ziploc bag, making it look like evidence from some bizarre crime scene.
She plans on bringing it to her 13-year-old son when she picks him up
from school. 'Maybe this will make my kid like me,' she says with a
sigh. "
Uh, yikes!