Teresa Butz (pictured below), the sister of Tony Award-winning actor Norbert Leo Butz, was stabbed to death by a male intruder at her apartment in the South Park area of Seattle. The intruder gained access to the apartment through an open window. Butz's partner, a 36-year-old woman who is not identified by name, was stabbed during the attack but survived.
The Seattle Times reports: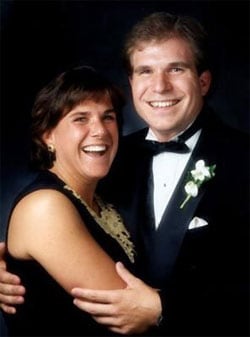 "The Seattle couple, who had been together about two years, were
preparing for a commitment ceremony in September and planned to travel
to Barcelona, Spain, to celebrate Teresa's 40th birthday in October, he
said…Tim Butz (the victim's brother, pictured) said Teresa's partner told family members that Teresa had
sacrificed herself to save the partner's life during the attack. A
detective related the same information, he said, but Butz said he
couldn't elaborate because of the investigation. A next-door neighbor in South Park, Albert Barrientes, said Tuesday
that the two women were able to get outside after the attack. The partner was hysterical, Barrientes said. Teresa Butz, before she
died, said of the attacker, 'He told us if we did what he asked us to
do he wouldn't hurt us. He lied, he lied,' Barrientes said."
Butz's killer remains at large, however, police released a sketch: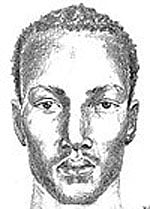 "Seattle police through most of Monday continued to call the attack
random, but officials Monday night said it's too early to rule out a
hate crime and that the sexual-minority task force has taken an
interest in the case. Interim Police Chief John Diaz said the 3 a.m. attack at the house
in the 700 block of South Rose Street was the most brutal crime he and
his officers have seen in some time and vowed to put every available
resource into catching the man. Detectives will be able to catch him through 'science, good police work
and community,' Diaz said, and urged anyone with information to call
the Seattle Police tip line at 206-233-5000, or Crime Stoppers of Puget
Sound at 1-800-222-TIPS. Tips can also be texted to TIPS486, with a
message to "crimes" (274637)."
About 400 people attended a neighborhood meeting in South Park on Monday night.
Teresa Butz was the ninth of 11 children.