Fort Worth Mayor Mike Moncrief makes a federal case of it.


Blast, Baby, Blast: Sarah Palin blasts the media for blasting her resignation, is in turn blasted by Alaska's Republican Senator Lisa Murkowski: "I am deeply disappointed that the Governor has decided to abandon the State and her constituents before her term has concluded." John McCain—blasted on the Fourth of July?—declares that post-Alaska, the thin-skinned quitter will continue to play a "leadership role" in the Republican Party. Even Mike Huckabee and Karl Rove are not impressed.

Eleven possible reasons why Sarah Palin up and quit.

Roger Federer wins at Wimbledon…again. Pushes past Pete Sampras with 15 Grand Slams wins.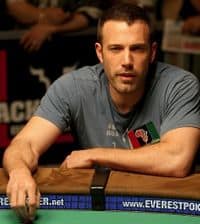 Ben Affleck ups the ante.

The crown level of the Statue of Liberty reopens to the public for the first time since 9/11. (I've been inside, though not to the crown; my experience is that it's amazing to look at from a distance and a claustrophobic, slow-moving schlep from within.)

Madonna confims she offered to duet with Jacko at one of his O2 Arena shows. "I don't know what we could have done together, I could have carried his bags for him maybe." Related: How Jacko's Thriller revolutionized the music biz.

Rumer Willis to play a lesbian on an episode of The CW's 90210.

South Carolina gripped by reports of a gun-wielding serial killer.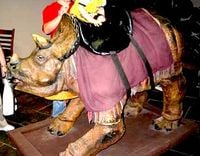 Via DailyKos: Paleontologists and other heathens visit Kentucky's Creation Museum, which makes them laugh…and cry.

TV pitchman and accidental bear sex symbol Billy Mays buried in McKees Rocks, Penn., all pallbearers wearing blue OxiClean shirts in tribute.

In case you were wondering how Murray and Roddick made out at Wimbledon, the answer is…almost literally.

Variety is the spice of life. Even for cockroaches.

NYMag.com on Bruno: "The fearless Sacha Baron Cohen is often called a 'satirist,' though that's only true if you believe that a man pushing a dog's nose into its own poop is 'satirizing' the dog or the poop." A short piece on gay minstrelsy.

Lost Causes: An unknown number of historical treasures is, ironically, missing from the National Archives, including the Wright Brothers' original patent, moonwalk images, Civil War telegrams sent by Abraham Lincoln and more.

Top clerical group brands Iranian election "illegitimate," in direct defiance of the supposedly supreme Ayatollah Khamenei.

Liver Transplant in Aisle 6: Wal-Mart takes on a good-guy posture in health care reform, backing the move to require that all employers provide coverage for all employees.

Big Loser: Perez Hilton takes off.

Shanghai Pride: "Bring in the boys!"