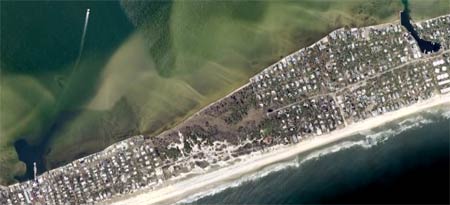 Rahul Bhola, 22, of Flushing, Queens, drowned on Saturday off Cherry Grove, Fire Island (a popular gay resort area off Long Island in New York), Newsday reports:
"[Bhola] was swimming near Cherry Grove at 5 p.m. Saturday when he was pulled away from shore by a strong current, Suffolk Police said. There were no lifeguards in the area and it is not known if Bhola could
swim, police said. A man Bhola had been swimming with unsuccessfully
attempted to save him. A search team was organized by lifeguards from Sailors Haven, a
community about half a mile away, and members of the Cherry Grove Fire
Department."
Bhola was airlifted to a hospital on Long Island where he was pronounced dead.
A Towleroad reader writes: "I was right there on the beach and noticed what was going on when
everyone was standing on the dune looking into the ocean – I think they
were looking because everyone else was…The
life guards were called and they ran went into the water, but were too
late and a bit in the wrong place – they were looking far off the
shore, but he was actually much closer. A bystander saw the man washing
up on the beach and ran in, but freaked out when he saw the body. A
woman on the beach must have been a doctor because she assisted. Another
man I saw walking down the beach alone before this happened seemed to
know the victim because he was extremely distraught seeing them
performing CPR and a really nice woman from the Fire/Rescue Squad took
him away and got him on the ferry. She spent a lot of time with him."
Just a reminder to all those out there visiting the beach this summer. Don't swim alone and be extra careful in rough surf.