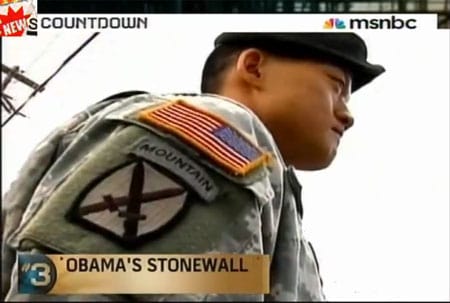 Keith Olbermann discusses "Don't Ask, Don't Tell" and wonders why Obama continues to hesitate in halting gay discharges. He talks to Dan Savage, who asks, if 75% of the American public are sold on repealing DADT, how many more "retrograde bigots" need to change their minds before he does something?
On that note, First Lt. Dan Choi was stripped of his officer's commission yesterday at a hearing as was expected and will be discharged. Alison Stewart covered it on The Rachel Maddow Show. 
Will "Don't Ask, Don't Tell" become as big a stain on Obama's legacy as it is on Clinton's? I suppose it depends on how many more lives he ruins because of it.
Watch both clips, AFTER THE JUMP…