U.S. swimmer Ricky Berens swimsuit tore open shortly before a race on Sunday at the FINA World Championships in Rome, but he swam anyway: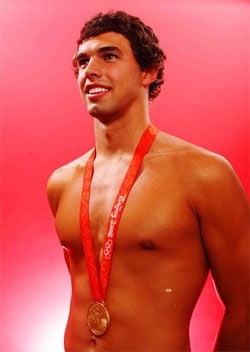 "AsRicky Berens, scheduled to swim third for the U.S. morning swimsquad, bent over on the pool deck for a drink of water moments beforethe race, his suit — a Jaked01 — split significantly in the back,exposing his rear end. There was no time to change the suit,  so U.S.anchor leg Cullen Jones urged Berens to forget the gaping hole andswim. Berens dived in and contested his third leg as scheduled, helpingthe U.S. team to a fourth-place finish in its heat in 3 minutes, 11.64seconds — and securing a critical slot in the night's final for Phelpsand his teammates…Berens, the 2009 Big 12 Swimmer of the Year fromTexas, was notavailable to comment on the suit problem. Jones, though, said tearswere becoming increasingly common as swimmers sought thetightest-fitting suits possible for the greatestperformance-enhancement. 'They're all splitting,' Jones said. 'We'reall having problems. We want to get it as tight as possible assprinters.'"
A photo of the wardrobe malfunction, AFTER THE JUMP…
A few weeks ago, a female Italian swimmer had the same issue a few weeks ago.
In related news, six records have already been broken at the championships.