The Daily Mail reports that John Travolta has been in a state of crisis since the death of his son Jett: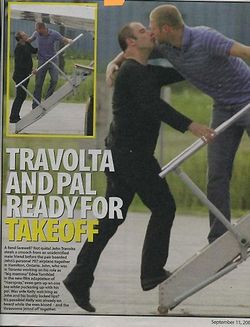 Say neighbors: "We often see John driving himself around at night. It's
sad to see. You rarely catch sight of him during the day. We used to
see him driving around on a buggy with his son. Now it's just John by
himself. He's always been a night owl, but now even more so."
According to the paper, Travolta's faith in Scientology has been broken by Jett's death and the religion's inability to help his son, but the cult is threatening to expose him if he tries to kiss it good-bye:
"But if rumours buzzing around Hollywood this week are to be
believed, it's not just the death of his beloved son that has been
torturing Travolta of late. His distress, say sources close to
him, has been compounded by the first cracks in his 34-year
relationship with the Church of Scientology, the cult-like religion of
which Travolta is a prominent and generous benefactor. And
there are dark mutterings that if he carries out private threats to
leave, the organisation will go public with embarrassing details of his
private life, including, it is claimed, allegations of past homosexual
relationships."