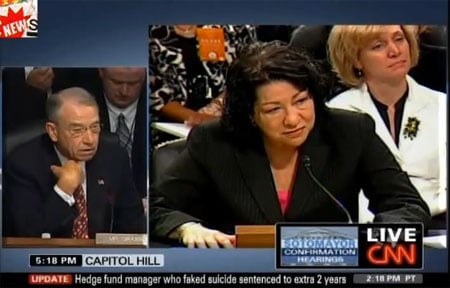 Judge Sonia Sotomayor refused comment  on a question related to same-sex marriage today from Senator Charles Grassley (R-IA) because she said her answer might influence one of the many related marriage suits currently in the courts.
Watch it, AFTER THE JUMP…
The L.A. Times reports: "The subject was raised indirectly by Sen. Charles E. Grassley (R-Iowa). Grassley did not mention same-sex marriage directly, but that was the implication when he asked Sonia Sotomayor about a court ruling that said Minnesota could deny a marriage license to two men. Did she agree, he asked, that the case, Baker vs. Nelson, reserved the question of marriage to the states?In Baker, the Minnesota Supreme Court ruled that two men could be denied a marriage license because Minnesota law limited marriage to men and women.As she has with other topics, Sotomayor said she couldn't comment because questions about marriage are pending in many courts and might reach the Supreme Court."
Grassley pressed her on the fact that it was precedent and that she had commented on Roe v. Wade as precedent. Sotomayor said she'd review the Baker case and return with comment tomorrow.
Watch it, AFTER THE JUMP…