Activist Mike Rogers, who was featured in Kirby Dick's movie Outrage and is known for exposing hypocritical closeted politicians, told Michelangelo Signorile today on Signorile's Sirius OutQ radio show that South Carolina Lieutenant Governor Andre Bauer is a closeted gay man.
Writes Rogers on his blog: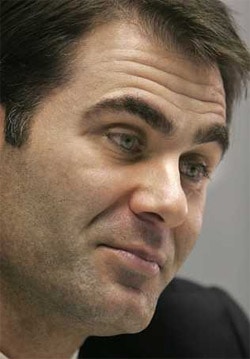 "I have confirmed and spoken to four individuals who I have no doubt are telling me the truth. These men have been hit on by Bauer, with one of them telling me it happened at least five times since Bauer's election in 2003. To a varying degree I have met with and believe the sources. And, as you'll recall, I have that 100% record.
This was still not enough for me to report on him. Then another call came in and I met with the source while he was visiting DC recently. 'He's gay,' the source told me. 'How do you know?' I asked. 'Because I've had sex with him on two separate occasions.' That too, was not enough for me to report on without confirmation from others. I was led on a path to chatting with acquaintances of the source and two former employees of Bauer who served on his staff between 2004 and 2007. They reported to me that on on a total of three occasions Bauer spent hours alone with men hotel rooms. Each of them explained that the visits were with younger men who were not on the staff of the Lt. Governor nor had any official reason to be with him. The two men each confirmed that they had not known each other who saw this and each described similar circumstances under with these interactions occurred. One of them confirmed that he was told by the Lt. governor's visitor had a sexual encounter with Bauer.
The combination of the reports and the first hand experiences were what I need to maintain my 100% record of being right in my reporting on this site."
Adds Rogers: "The bachelor is a right wing Christian conservative. He's done everything from defend the state issuing "I believe" license plates (complete with a cross on them) to defending the right of schools to use corporal punishment. In the presidential election he supported Mike Huckabee."
Should Governor Mark Sanford, who is under fire for an extramarital affair, leave office, Bauer is set to take his place as governor. Sanford continues to be under pressure from lawmakers and colleagues to resign.
Rumors Confirmed [blogactive]