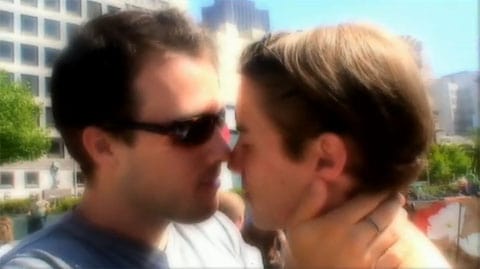 A Nationwide Kiss-In was held in more that 40 cities across on Saturday. The demonstrations were held primarily in response to the arrest of a gay Utah couple detained for kissing on a public plaza near Salt Lake City's Mormon Temple last month. Organizers David Badash and David Mailloux explained why they organized it: "After incidents in San Antonio, TX, El Paso, TX and Salt Lake City, UT- where different gay and lesbian couples were harassed or detained bylaw enforcement or other people for the simple act of kissing in apublic place – we need to make a strong statement to everyoneeverywhere: kissing is not a bad thing, nor has it ever been. It's notvulgar or inappropriate. It's a sign of affection that is as old astime itself. And it's a beautiful thing that we share with our lovedones every single day."
In Utah: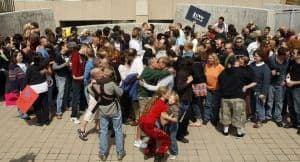 "'The seeds have already been planted for the biggest cultural shift GLBT people will have ever experienced,' actor and activist Charles Lynn Frost told a crowd of 100 to 150 people. 'And it will largely happen with children who will soon be adults,' he said.'Who choose not to hate, frighten or be divisive but choose to see no differences between any human being that makes them worth loving.'Organizer Ash Johnsdottir, a Provo activist, said the demonstration was in response to the detention last month of a gay couple who kissed on the LDS Church's Main Street plaza, and to similar cases in Texas.It was the third local kiss-in since the detentions. Unlike the second demonstration, no counterprotesters appeared."
In San Diego: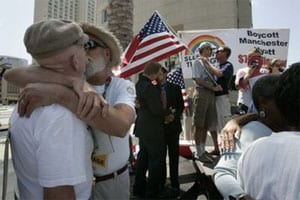 "Gay and lesbian couples protesting the passage of Proposition 8publicly showed their affection yesterday as they smooched in front ofthe Manchester Grand Hyatt. About 60 gay-rights supporters attended the "Kiss-in for Equality"to demand the right to legally marry in California. In San Diego, same-sex couples of various ages gave speeches. The protest ended with kisses and chants in the hotel lobby. Members of the gay community have led a boycott against the hotelfor the past year because owner Doug Manchester donated $125,000 tosupport Proposition 8, the November state ballot initiative thatoutlawed same-sex marriage."
In Denver: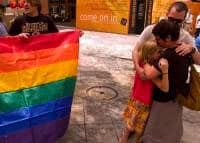 "About a dozen people on Denver's 16thStreet Mall participated in a nationwide "kiss-in" Saturday tounderscore their support for gay rights. The event drew a tepid response from onlookers. Phil Rose of Chattanooga, Tenn., stopped his mall walk and stared. 'It's not for me,' Rose said. 'I'm not for same-sex marriage, but it's about kissing for everybody.'"
In a brief article about the events, the AP concludes, "Church observers say the church's intervention into California politics has left the faith's image tarnished."
Videos of the San Francisco, Santa Monica, Chicago, and Denver kiss-ins, AFTER THE JUMP…
Gay Kiss-Ins Smack Mormon Church [msnbc]