The Iowa Civil Rights Commission, a seven-member bipartisan panel whose duty is "to enforce state and federal statutes that prohibit discrimination in
employment, public accommodations, housing, education and credit by
investigating and litigating civil rights complaints," voted unanimously yesterday that it would formally oppose any effort to pass a constitutional amendment that would overturn the state's same-sex marriage law.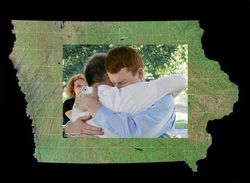 The panel also voted to formally support the decision of the Iowa Supreme Court in allowing same-sex couples to marry.
Said Republican commissioner Rick Morain to the Des Moines Register: "I don't think we're saying that there can't be a constitutional
amendment raised. I mean, that's under the constitution. My personal
feeling is that if that kind of amendment were adopted, it would clash
with Article 1 of the constitution, which is the Iowa Bill of Rights."
According to the paper, "August is typically a month when commissioners review policy positions and decide which legislative priorities to focus on."