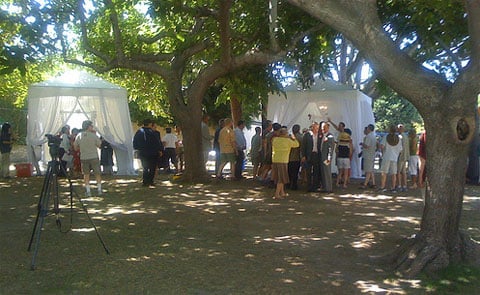 West Hollywood Park, adjacent to North San Vicente Boulevard in West Hollywood, where dozens of the first same-sex weddings were performed in June 2008, will have that moment commemorated with a bronze plaque inscribed with a quote from Nelson Mandela, according to the L.A. Times.
he plaque will read: "I am not truly free if I am taking away someone else's freedom, just as
surely as I am not free when my freedom is taken from me. The oppressed
and the oppressor alike are robbed of their humanity."
Said WeHo Mayor Jeffrey Prang: "It happened on a single day but it went on for months. And it meant something much bigger than that. When same-sex marriage was declared legal by the court, all eyes gravitated toward West Hollywood and San Francisco."
(image above by flickr user TomChatt)