Nathaniel Rogers would live inside a movie theater but for the poor internet reception. He blogs daily at the Film Experience.
Your Feature Presentation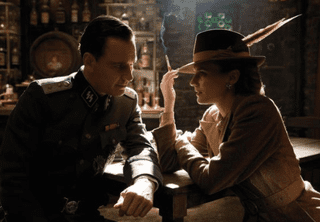 At first glance it might seem odd to channel Waiting For Guffman's Corky St. Clair to title a post on Quentin Tarantino's WW II film Inglourious Basterds, but a closer inspection excuses the odd allusion. Inglourious Basterds lurches toward the parodic on more than one occasion as it veers like a happy drunk from historical drama to espionage thriller to action gorefest to black comedy and back again. And Tarantino is never shy about cinematic referencing so why should we be when discussing his films? Brad Pitt plays the presumably illiterate Lt. Aldo Raine –hence the title, bound to drive spelling bee champs mad – who leads a group of mostly Jewish soldiers on a mission to kill and scalp "Natzis!" in occupied France late in World War II. But that synopsis, and even the understandable marketing of Pitt as the film's star are somewhat misleading.
MORE, AFTER THE JUMP…
Like many of Tarantino's idiosyncratic efforts, this one is overstuffed with memorable characters and sidebar flourishes. The Basterds, as the multi-chapter plot shakes out, turn out to be the least interesting part of the long but never dull film. It's better to discover the messy sprawling weirdly funny narrative in the theater where you can appreciate the way the camera, performance, editing and dialogue shape suspense, comedy and action (though there's less of the latter than you'd think). Pitt's Aldo has top billing but there are three principal players. The others are the Jewish movie theater owner Shoshanna (Melanie Laurent) and the threatening, smug, multilingual "Jew Hunter" Col. Hans Landa (played by Christoph Waltz who steals the whole movie and might snag an Oscar nomination, too). Close inspection reveals that the film is not really about the Basterds all. It's not even really about World War II per se. Or at least not the WWII you can learn about in books.
It might be easy to dismiss Tarantino's latest as a prank or a gag (it is unquestionably jokey), especially if you need your war films sober or sentimental. But if you see Inglourious Basterds as a movie about movies and Tarantino's love affair with them, it's a true pleasure. The movies are the set (Shoshanna's theater), the movies are the characters (two movie stars, a director and a film critic figure in) and the movies are even the weapons (you'll have to see the movie). Basterds may be imperfect, absurd and misspelled… but it sure does love being a movie.

Also Opening
If Mad Men has you clamoring to know more about the world of 60s advertisting the documentary Art and Copy will provide. Last year's German Foreign Film Oscar nominee, the political terrorism thriller The Baader Meinhof Complex, (pictured right) has opened stateside. Five Minutes of Heaven is an Irish crime drama starring Liam Neeson. And finally, Alexis Bledel wonders what's next for her in Post Grad. Yes, The Gilmore Girl is a college graduate. My god they grow up fast.
 The Classics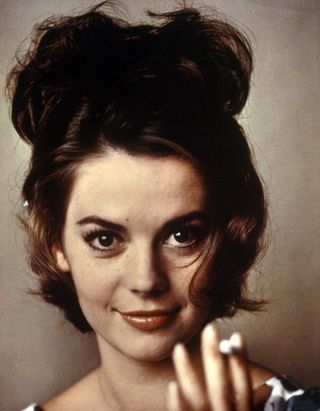 What's the secret to everlasting fame for movie stars? It's crass to say, but it's failproof: Die young and beautiful, preferably under mysterious or confusing circumstances or in a poetically tragic way after (and after is the key) appearing in a classic or two. Natalie Wood was an overacheiver on all three counts. The legendary child star turned A list movie queen, who was famously afraid of the water, drowned at 43. She fell from her yacht "Splendour" (named after Splendor in the Grass, her best performance) while on an intimate Thanksgiving weekend for three with her actor husband Robert Wagner (Hart to Hart) and her final co-star Christopher Walken. This tabloid-ready death unfortunately obscured (for a time) the reason for her original durability: undeniable beauty, emotionally engaging performances and a filmography overflowing with classics (The Searchers, Miracle on 34th Street, West Side Story and Rebel Without a Cause among them).
If you're in the New York area this weekend, the Film Society of Lincoln Center is hosting a retrospective of Wood's work with an array of classics and rarely screened oddities. The celebration will feature special appearances by co-stars Dyan Cannon and Elliott Gould from Bob & Carol & Ted & Alice (one of Natalie's best, a funny 60s time capsule) and Sandy Mulligan from Inside Daisy Clover, one of Natalie's strangest, which features an absurdly beautiful Robert Redford as a closeted movie star. Friday's screening of West Side Story even boasts a Q & A with Marni Nixon, a personal hero of mine, who sang for Hollywood's biggest female stars (Audrey Hepburn, Deborah Kerr, Natalie Wod) when they couldn't handle the musical demands of their roles.
If you can't make it to the theater, you can always host your own Classic Hollywood retrospective at home. If you were throwing an impromptu Natalie Wood party, which DVD would you be sticking in the player?